How can the world prevent the weaponisation of space?
Is it naïve to the want to prevent the militarisation of space?
A new report from Friends of Europe – "Running out of Space: European security in space," authored by Paul Taylor – argues that the war in Ukraine has demonstrated multiple uses of space in combat, from the privatisation of satellite intelligence and military connectivity to the impact of cyber-attacks on space systems.
The report, written during Russia's war on Ukraine, is part of Friends of Europe's Making Space Matter initiative and was launched at their Space Summit event organised in partnership with the European Space Agency on 20 June. It catalogues the spread of space weapons and urges the EU to stop being naïve about the militarisation of space and collaborate to protect its own space assets, including with defensive counter-space capabilities.
It urges the EU and NATO to expand their cooperation to the space domain, where Europe has assets that could be valuable to the alliance in Earth observation and improving its space situational awareness and tracking.
Want to learn more about the weaponisation of space? Check out our infographic below (click for a bigger version):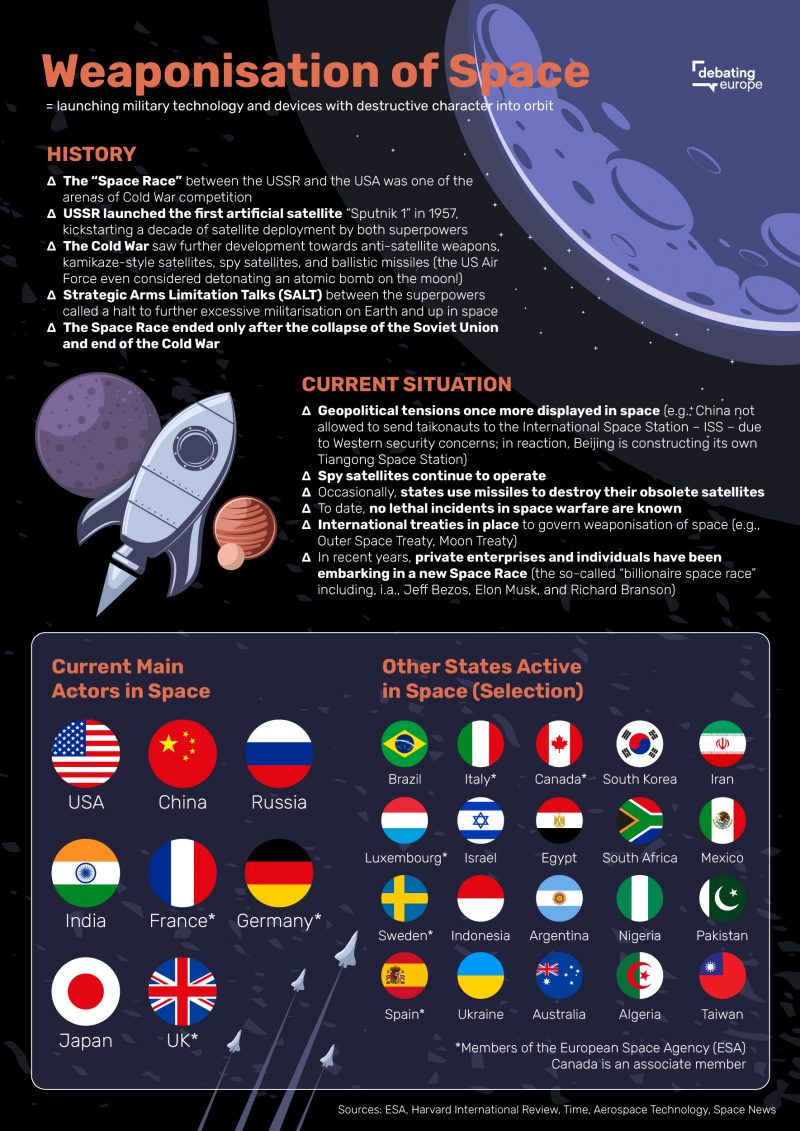 What do our readers think?
We had comments sent in by Nelly during a citizens' panel on our Debating Africa sister website, as well as by George in the comments section.
To get a reaction, we took these comments to:
Mathieu Bataille, Resident Fellow, European Space Policy Institute (ESPI)
Nayef Al-Rodhan, Prof. Nayef Al-Rodhan, Head of Geopolitics and Global Futures Programme, Geneva Centre for Security Policy (GCSP)
Gaspard Schnitzler, Research Fellow, French Institute for International and Strategic Affairs (IRIS)
You can see their responses in the video at the top of this post.
How can the world prevent the weaponisation of space?
What should be Europe's approach to a military conflict spreading to orbit? Should EU countries focus on achieving greater strategic autonomy over space capabilities?
Funded by the European Union. Views and opinions expressed are however those of the author(s) only and do not necessarily reflect those of the European Union or the European Commission. Neither the European Union nor the granting authority can be held responsible for them.